| | |
| --- | --- |
| The Triangle Go Group | Staying Connected for Over 50 Years |

Yuan Zhou Workshop, May 24, 2020
Cyberspace


The Twelfth North Carolina Workshop with Yuan Zhou was held May 24, 2020. This was the first workshop the Triangle Go Group held on the Internet.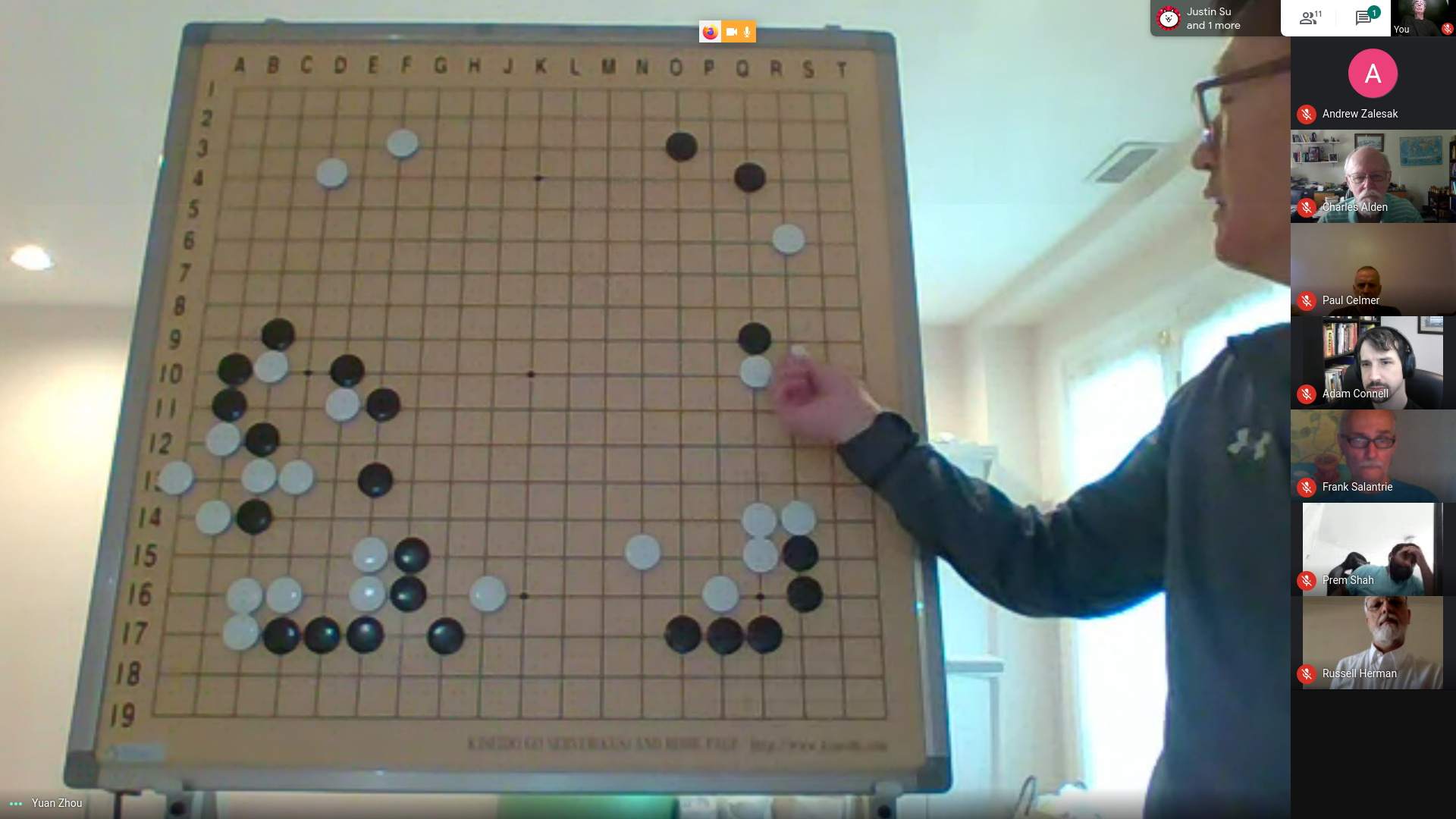 10 enthusiastic North Carolina Go players attended an online Yuan Zhou workshop on Sunday, May 24th. We usually host teacher Zhou in our fair state, but the COVID-19 pandemic convinced us that an online event would be better this time.
Laoshi Zhou explained an exciting pro game played August 5th, 2019, between Park Yeong-hun and Han Seung-chu. It was especially interesting to see the influence that AI continues to have on professional play, and the exceptions to the AI way. Interlaced with the lecture topic were helpful hints on how we may incorporate successful ways of thinking to improve our own games, with emphasis on balance, knowing the score and acting accordingly. Teacher Zhou put special emphasis at understanding joseki in light of new insights from AI, including new ways to look at the double approach against a stone at the corner star point. "We can learn from AI, but AI can't talk. We still need humans to interpret, and understand the Go truths." Yuan said.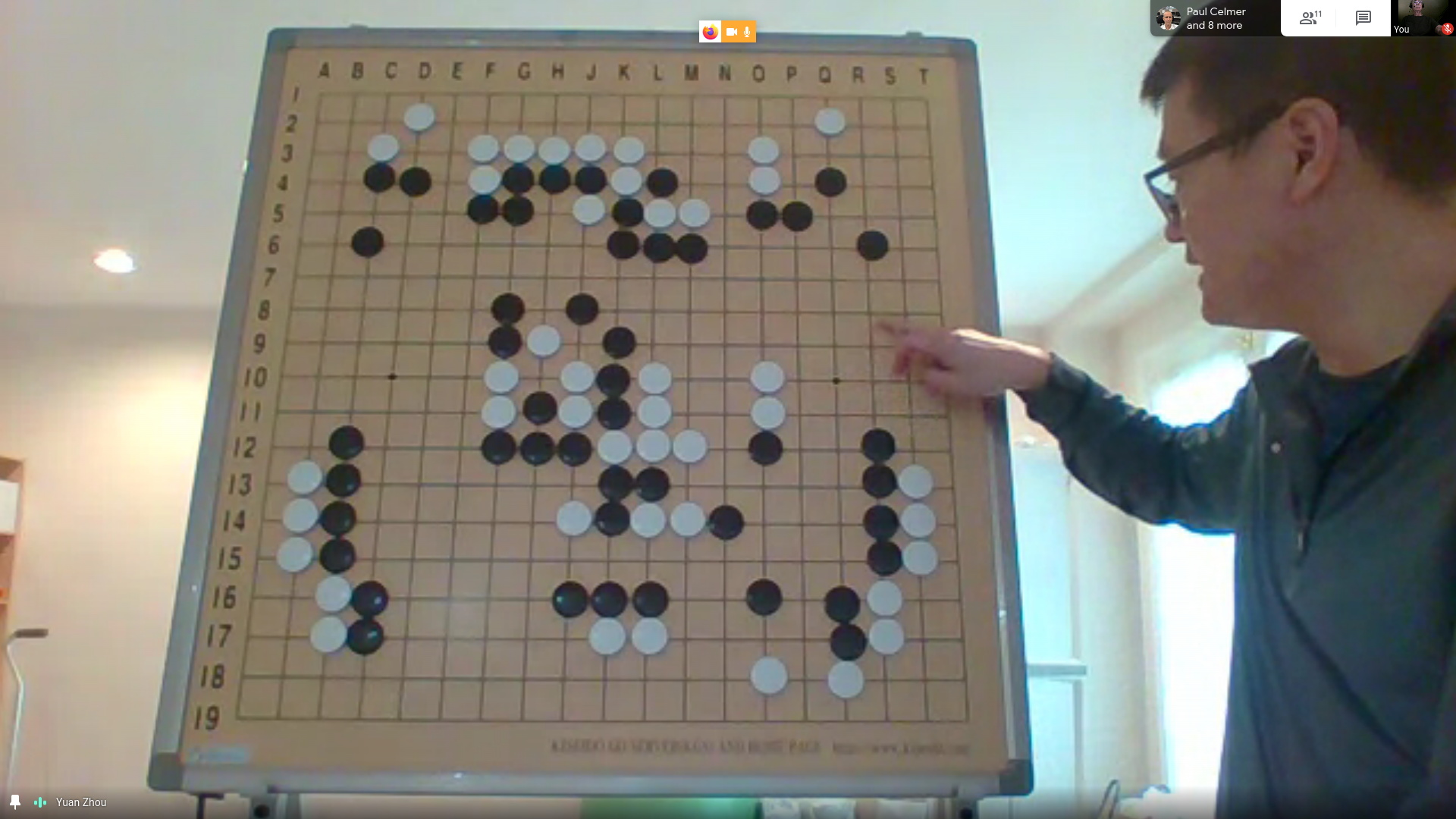 Our teacher also spent many hours going over games that the workshop participants had played with each other in preparation for the workshop. Laoshi Zhou advised "Players should play their own ideas and not follow each others. At its essence, Go is about freedom." I know I learned a lot from this workshop, and feel that my play will improve, thanks to Yuan Zhou's explanations and suggestions.
We were taught much in a brief period of time and the online format worked well, except for a few minor microphone problems on our end. As always, I look forward to the next event with Yuan Zhou.
The workshop was sponsored by the American Go Foundation and the Triangle Go Group of North Carolina.
---
Biography of Yuan Zhou:
Yuan Zhou (American Go Association 7 dan) was born in Tianjin, China. Tianjin is a major city in the northern part of China, near Beijing. His father taught him to play Go at the age of six, and a year later he won the Tanggu District Junior Go Championship. After this auspicious beginning, Zhou began professional Go training while he was still seven years old. He was twice invited to represent Tianjin in the All China Prodigy Cup.
In 1989 Zhou immigrated to the USA and joined the American Go Association (AGA), becoming a US citizen. Zhou earned a BS in Electrical from the University of Maryland, where he was also president of the University of Maryland Go club. Afterwards, he became increasingly involved in AGA events, winning many Go tournaments. Please see the list below for Yuan Zhou's 30 US Go titles. Zhou also served on the AGA Board of Directors in 2005-2007.
Zhou is one of the top competitors on the American Go scene, winning the Eastern US Open, one of the biggest US tournaments in 1992. He also won New Jersey Open, one of the biggest US tournaments, four times. Twice he has also won the Maryland Open, another major tournament that attracts strong players. Zhou is regularly invited to play in the North American Ing Cup, which involves the strongest US players, and the North American Fujitsu Qualifying Tournament, which also includes pros. In Zhou's Go career, he has defeated pros many times, including three times in even tournament games: Hak Soo Kim 6p in the 1996 Fujitsu, Xuefen Lin 1p in the 2001 Eastern Oza and Huiren Yang 1p in the 2009 North American Ing Masters. In 2004 he won the US Ing Redmond Cup and with Kristen Burrall as partner, the US Pair Go Tournament. He and Burrall represented the US in the 15th World Pair Go Championship in Tokyo. Zhou represented the US again in the 20th World Pair Go Championship in Tokyo. Zhou was also the US representative in the 3rd World Student Oza in Tokyo. In 2009, Zhou represented USA in the 4th Korea Prime Minister Cup World Go championship in Jeonju, Korea and finished 5th place.
In addition to his competitive successes, Zhou has become a popular teacher and lecturer, frequently giving lectures and teaching lessons at various Go clubs in the eastern US region. He has also published many books at Slate & Shell (www.slateandshell.com). Zhou resides in Germantown, Maryland.
Yuan Zhou is currently accepting new students. He offers private lessons, group lessons in person or on the internet. If you are interested in becoming Yuan Zhou's student and/or taking lessons from him and if you are a serious go player who wants to learn, improve and enjoy go, please contact him at yuan.zhou@zhouyuan.com. You can also see his website www.zhouyuan.com for more information.
US Go Tournament Victories
* DC Fall Open 2018
* US National Go Center Lunar New Year 2018
* US Pair Go Championship 2012
* US Pair Go Championship 2011
* North American Ing Masters Qualifier 2011
* US Pair Go Championship 2009
* North American Ing Masters Qualifier 2009
* Mid Atlantic Open 2007
* Philadelphia Fall Open 2007
* US Pair Go 2004
* Virginia Open 2004
* US Ing Redmond Cup 2004
* Virginia Open 2003
* Pennsylvania Open 2002
* Maryland Open 2002
* New Jersey Open 2001
* Korean Baduk Eastern US Open 2001
* Pennsylvania Open 2000
* Mid Atlantic Open 2000
* NoVa Congress Tune Up 1999
* Philadelphia Open 1998
* New Jersey Open 1997
* New Jersey Open 1996
* New Jersey Open 1995
* University of MD Open 1995
* Maryland Open 1994
* University of MD Open 1993
* NoVa Cherry Blossom 1993
* NoVa Pumpkin Classic 1993
* Eastern US Open 1992
* NoVa Cherry Blossom 1992
* Mid Atlantic Open 1990




Click here to return to the Triangle Go Club homepage.