| | |
| --- | --- |
| The Triangle Go Group | Staying Connected for Over 50 Years |
Carolina Spring Tournament, May 19, 2019.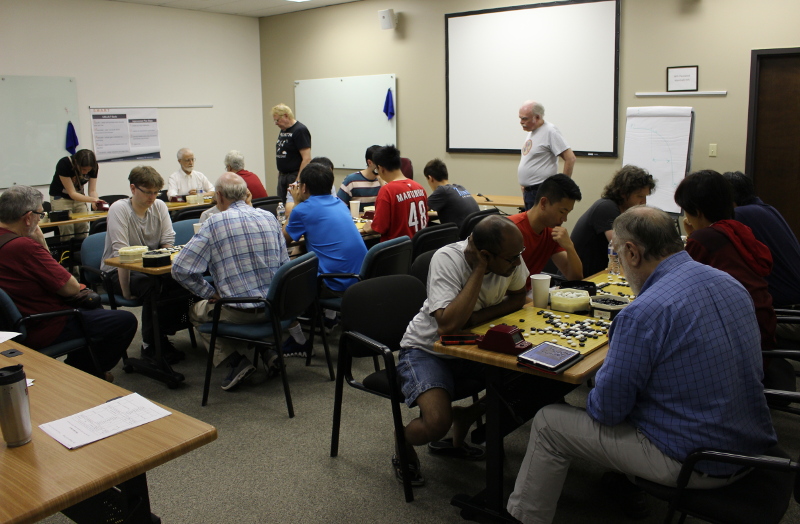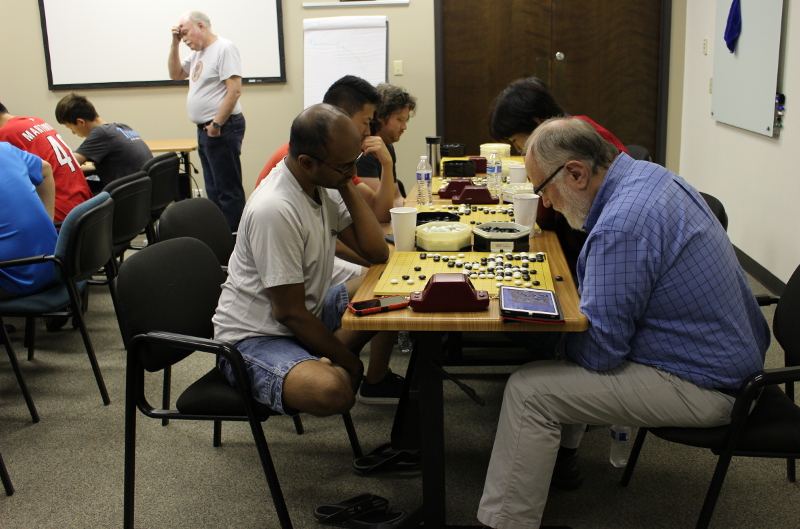 24 Go players enjoyed stimulating competition in the North Carolina Annual Spring tournament on Sunday, May 19th. After 4 rounds of well matched games the following winners were noted: in the top band, Jeff Kuang won all of his games and claimed the otp prize; second place was a tie between Ji Wen and Haixin Yang, each with a 3 win 1 loss record and identical SOS scores. Band 2 was won by Tao Ma with a 3-1 record; Charles Alden placed second with a 2-2 performance and the highest SOS score, edging out the other 2-2 winners in that section, Jim Conyngham and Justin Blank. Russell Herman was the clear winner in Band 3 with the only other perfect 4-0 record of the day, and Will Daland claimed 2nd place as his SOS score placed him slightly higher than the other 2-2 performers, Ganning Xu, Dale Blann and Bhaskar Bharath. John Schollenberger won 3 of 4 games to lead the pack in Band 4, with Sky Wang placing second. The tournament was attended by many supportive parents, and we greatly appreciate their support. Jeff Kuang was the Tournament Director. Lunch was provided onsite by the Triangle Go Group. The beautiful playing area was provided courtesy of Triangle Go Group member Dale Blann. Thank you, Jeff and Dale!
More photos from this event are available on the Triangle Go Group photo page. In the below tables, komi is listed as 7 and 0, representing 7.5 and 0.5 respectively. Winners appear in bold.
Entrants
AGA Rating
AGA ID
Wins
Losses
Jeff Kuang
4D
13845
4
0
Brian Wu
3D
15452
0
4
Chen Yuan
3D
24599
0
4
Ji Wen
2D
24602
3
1
Haixin Yang
2D
24131
3
1
Sheng Huo
2D
24076
2
2
Brian Aronson
2D
17792
1
1
Charles Alden
1D
4679
2
2
Tao Ma
1K
23534
3
1
Justin Blank
3K
13891
2
2
Jim Conyngham
4K
6623
2
2
Bob Bacon
6K
11286
2
2
Kerianne Squitire
7K
17795
2
0
Tom Roncoli
7K
22607
1
3
William Daland
8K
6416
2
2
Ganning Xu
11K
20628
2
2
Dale Blann
11K
10348
2
2
Tom Carlson
11K
11288
0
4
Bhaskar Bharath
12K
22914
2
2
Russell Herman
12K
2776
4
0
Cenhuan Wang
15K
24579
1
3
John Schollenberger
16K
8235
3
1
Don Nonini
16K
15693
1
3
Sky Wang
18K
23870
2
2

Round One
White
Black
Winner
Handicap
Komi
Jeff Kuang
Brian Wu
W
0
7
Chen Yuan
Ji Wen
B
0
7
Sheng Huo
Haixin Yang
B
0
7
Charles Alden
Tao Ma
B
0
7
Justin Blank
Jim Conyngham
B
0
7
Tom Roncoli
Bob Bacon
B
0
7
William Daland
Dale Blann
W
2
0
Tom Carlson
Ganning Xu
B
0
7
Russell Herman
Bhaskar Bharath
W
0
7
Don Nonini
Cenhuan Wang
W
0
7
John Schollenberger
Sky Wang
W
0
0

Round Two
White
Black
Winner
Handicap
Komi
Chen Yuan
Jeff Kuang
B
0
7
Haixin Yang
Brian Wu
W
0
7
Ji Wen
Sheng Huo
W
0
7
Brian Aronson
Charles Alden
B
0
7
Tao Ma
Justin Blank
B
2
0
Jim Conyngham
Bob Bacon
B
0
0
William Daland
Kerianne Squitire
B
0
7
Tom Roncoli
Ganning Xu
W
2
0
Tom Carlson
Russell Herman
B
0
7
Bhaskar Bharath
Dale Blann
B
0
7
Cenhuan Wang
John Schollenberger
B
0
7
Don Nonini
Sky Wang
B
2
0

Round Three
White
Black
Winner
Handicap
Komi
Ji Wen
Jeff Kuang
B
0
7
Haixin Yang
Chen Yuan
W
0
7
Brian Wu
Brian Aronson
W
0
7
Charles Alden
Sheng Huo
B
0
7
Tao Ma
Jim Conyngham
W
2
0
Justin Blank
Bob Bacon
W
0
0
Kerianne Squitire
Tom Roncoli
W
0
7
William Daland
Russell Herman
B
2
0
Dale Blann
Ganning Xu
B
0
7
Bhaskar Bharath
Tom Carlson
W
0
7
John Schollenberger
Don Nonini
W
0
7
Cenhuan Wang
Sky Wang
W
0
0

Round Four
White
Black
Winner
Handicap
Komi
Jeff Kuang
Haixin Yang
W
0
7
Sheng Huo
Chen Yuan
W
0
7
Brian Wu
Ji Wen
B
0
7
Justin Blank
Charles Alden
B
0
7
Tao Ma
Bob Bacon
W
3
0
Jim Conyngham
Tom Roncoli
W
2
0
William Daland
Ganning Xu
W
0
0
Russell Herman
John Schollenberger
W
3
0
Bhaskar Bharath
Don Nonini
W
3
0
Dale Blann
Cenhuan Wang
W
3
0
Tom Carlson
Sky Wang
B
5
0