| | |
| --- | --- |
| The Triangle Go Group | Staying Connected for Over 50 Years |
Carolina Spring Tournament, April 22, 2018.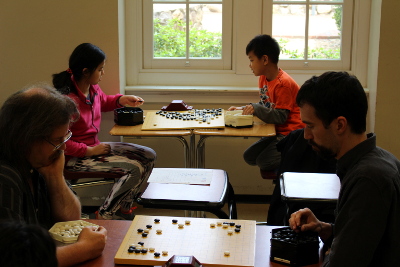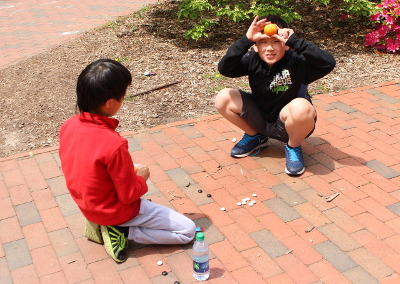 38 Go players participated in the North Carolina Annual Spring tournament on Sunday, April 22nd. It was a beautiful sunny day on the UNC campus in Chapel Hill, and after 4 rounds of intense competition the following winners were noted: in the top band, perennial champion Eric Zhang won all of his games; second place was a tie between Brian Wu and Suyoung Yoon. Band 2 was won by Tao Ma with another 4-0 record; Paul Celmer placed second. There was a 3 way tie for first place in Band 3, with Eric Tillberg, Harrison Pedigo and Tom Roncoli each achieving a 3-1 record. Raul Crisan won all 4 of his games to lead the pack in Band 4, with Justin Su and Ganning Xu placing second. Band 5 was handily won by Ajay Dheeraj, with another perfect 4-0 record; Annie Yuan and John Schollenberger tied for second, and Sophia Yang was 3rd. The local Go community was encouraged by the many first and second time tournament participants. The tournament was attended by many supportive parents and one special guest, local Professional Ying Shen 2P. Ying Shen 2P offered suggestions and encouragement to many of the participants, and her presence was greatly appreciated. Jeff Kuang was the Tournament Director. Lunch was provided onsite by the Triangle Go Group. The site was arranged by the Cary Go Club.
More photos from this event are available on the Triangle Go Group photo page. In the below tables, komi is listed as 7 and 0, representing 7.5 and 0.5 respectively. Winners appear in bold.
Entrants
AGA/Entry Rating
AGA ID
Wins
Losses
Jeff Kuang
4d
13845
1
2
Eric Zhang
4d
13265
4
0
Guojun Zhu
4d
18108
0
4
Frank Salantrie
3d
2014
2
2
Suyoung Yoon
2d
23325
3
1
John Moore
2d
13828
2
2
Brian Wu
2d
15452
3
1
Xiaoping Wu
1d
13472
1
3
Peter St. John
1d
1083
1
3
Paul Celmer
1d
4910
2
2
Justin Blank
3k
13891
1
3
Tao Ma
3k
23534
4
0
Eric Tillberg
4k
21022
3
1
S. Yod Teague
5k
22237
2
2
Qinglan Wei
5K
23887
0
4
Bob Bacon
6k
11286
1
1
Thomas McCarthy
6k
10124
2
0
Leroy Anderson
6k
22924
2
2
Harrison Pedigo
6k
23829
3
1
Garrett Weeter
7k
23530
2
2
Thomas Roncoli
7k
22607
3
1
Ben Parrott
7k
22897
1
3
Andrew Thieman
8k
23749
2
2
Will Daland
8k
6416
1
3
Ellen Zeng
8k
20627
2
2
Russell Herman
11k
2776
1
2
Dale Blann
11k
10348
1
3
Ganning Xu
13k
20628
2
2
Raul Crisan
14k
20915
4
0
Justin Su
15k
21377
2
2
John Schollenberger
16k
8235
3
1
Sky Wang
25K
23870
1
3
Sophia Yang
25K
23886
2
2
Yichen Fan
25K
23854
0
4
Andre Fan
25K
23837
1
3
Derek Zhang
25k
23869
1
3
Annie Yuan
25K
23332
3
1
Ajay Dheeraj
25k
23529
4
0

Round One
White
Black
Winner
Handicap
Komi
Eric Zhang
Guojun Zhu
W
0
7
Frank Salantrie
Jeff Kuang
W
0
7
Suyoung Yoon
Brian Wu
W
0
7
Paul Celmer
John Moore
B
0
7
John, St.
Xiaoping Wu
B
0
7
Tao Ma
Justin Blank
W
0
7
Eric Tillberg
S. Teague
W
0
7
Qinglan Wei
Harrison Pedigo
B
0
7
Garrett Weeter
Andrew Thieman
B
0
7
Leroy Anderson
Ben Parrott
W
0
7
Thomas Roncoli
Russell Herman
W
2
0
Ellen Zeng
Will Daland
B
0
7
Ganning Xu
Dale Blann
B
0
7
Justin Su
Raul Crisan
B
0
7
John Schollenberger
Sky Wang
W
3
0
Annie Yuan
Yichen Fan
W
0
7
Sophia Yang
Andre Fan
W
0
7
Derek Zhang
Ajay Dheeraj
B
0
7

Round Two
White
Black
Winner
Handicap
Komi
Jeff Kuang
Eric Zhang
B
0
7
Guojun Zhu
Frank Salantrie
B
0
7
John Moore
Suyoung Yoon
B
0
7
Xiaoping Wu
Brian Wu
B
0
7
Paul Celmer
John, St.
B
0
7
Tao Ma
Eric Tillberg
W
0
7
Justin Blank
Harrison Pedigo
B
0
7
S. Teague
Qinglan Wei
W
0
7
Andrew Thieman
Leroy Anderson
W
0
7
Thomas McCarthy
Thomas Roncoli
W
0
7
Ben Parrott
Ellen Zeng
W
1
0
Will Daland
Garrett Weeter
B
0
7
Dale Blann
Justin Su
B
4
0
Raul Crisan
Ganning Xu
W
0
7
John Schollenberger
Sophia Yang
W
3
0
Derek Zhang
Annie Yuan
B
0
7
Ajay Dheeraj
Yichen Fan
W
0
7
Andre Fan
Sky Wang
B
0
7

Round Three
White
Black
Winner
Handicap
Komi
Eric Zhang
Frank Salantrie
W
0
7
Suyoung Yoon
Jeff Kuang
B
0
7
John Moore
Guojun Zhu
W
0
7
Brian Wu
John, St.
W
0
7
Xiaoping Wu
Paul Celmer
B
0
7
Tao Ma
Andrew Thieman
W
2
0
S. Teague
Justin Blank
B
0
7
Harrison Pedigo
Eric Tillberg
B
0
7
Qinglan Wei
Garrett Weeter
B
0
7
Ben Parrott
Thomas McCarthy
B
0
7
Bob Bacon
Leroy Anderson
W
0
7
Thomas Roncoli
Will Daland
W
0
7
Ellen Zeng
Dale Blann
W
1
0
Ganning Xu
Russell Herman
W
0
7
Raul Crisan
Derek Zhang
W
7
0
John Schollenberger
Justin Su
B
0
7
Ajay Dheeraj
Sophia Yang
W
0
7
Sky Wang
Annie Yuan
B
0
7
Yichen Fan
Andre Fan
B
0
7

Round Four
White
Black
Winner
Handicap
Komi
Eric Zhang
John Moore
W
0
7
Frank Salantrie
Brian Wu
B
0
7
Guojun Zhu
Paul Celmer
B
0
7
Xiaoping Wu
Suyoung Yoon
B
0
7
John, St.
Tao Ma
B
0
7
Eric Tillberg
Justin Blank
W
0
7
Harrison Pedigo
Bob Bacon
W
0
7
Andrew Thieman
S. Teague
B
0
7
Qinglan Wei
Ellen Zeng
B
1
0
Thomas Roncoli
Ben Parrott
W
0
7
Garrett Weeter
Leroy Anderson
B
0
7
Will Daland
Ganning Xu
B
3
0
Dale Blann
Raul Crisan
B
0
7
Russell Herman
Justin Su
W
1
0
John Schollenberger
Yichen Fan
W
5
0
Ajay Dheeraj
Sky Wang
W
1
0
Annie Yuan
Sophia Yang
B
1
0
Andre Fan
Derek Zhang
B
0
7