| | |
| --- | --- |
| The Triangle Go Group | Staying Connected for Over 50 Years |
North Carolina State Championship
and 20th Annual Memorial Go Tournament
September 25 and 26, 2021, at Umstead State Park in Raleigh, NC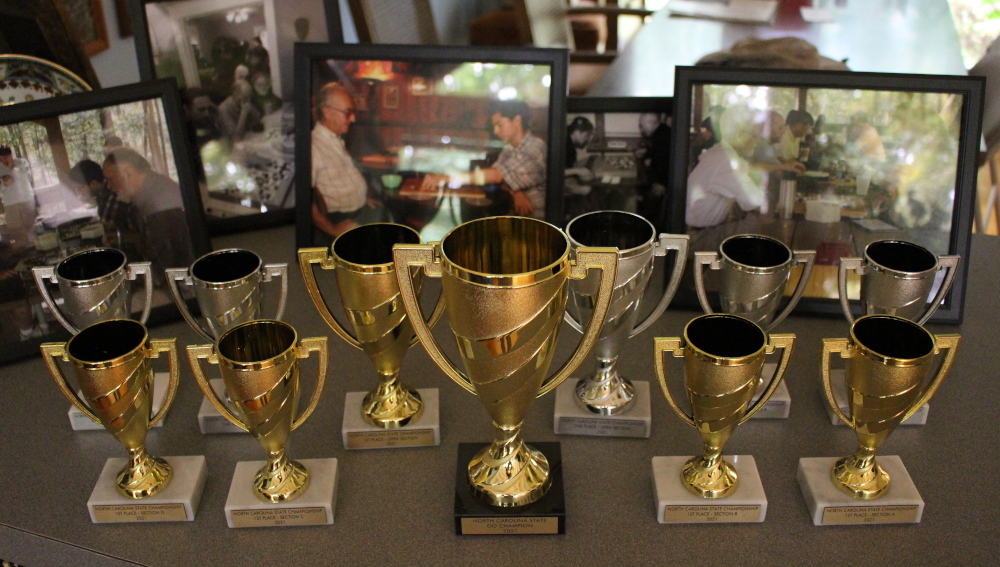 42 Go enthusiasts participated in this tournament with players from North Carolina, Tennessee, New Jersey, New York, Delaware and Illinois. We welcomed an unusually large contingent of Dan players, with 23 entrants rated between 1 Dan and 7 Dan. We were especially impressed by and appreciated the presence of Richard Hugh, a 93 year young Go player who played well and lifted everyone's spirits. He was the unofficial champion of the tournament.
The 1 hour, 5 30 second byo yomi games took place in an open air shelter in beautiful Umstead State Park. Masks and hand sanitizer were provided and their use encouraged. All participants were required to be fully vaccinated against Covid-19. Lunch was provided both days courtesy of the hosting club, the Triangle Go Group.
Jeff Kuang was the Tournament Director and the tournament ran smoothly, as always. Trophies and cash prizes were awarded to 5 sections, topped by the very competitive open section. The previous NC State Champion, Chen An, was unable to compete due to academic demands but he visited Sunday and played an exciting game with the Yi Li, our new State Champion.
Section D, with players 9 kyu and lower was won by Bhaskar Bharath and Russell Herman, who tied for top honors. Justin Su came in second.
Section C, 6 kyu to 8 kyu, saw Bob Bacon in first, and Tom Roncoli second.
Section B, 1 kyu to 5 kyu, was won by Stephen Choung, followed closely by Robert Qi in second place.
Section A, 3 dan to 1 dan, enjoyed great competition and the victory of young Huo Sheng. Second place was a tie between veterans Nianci Gan and Suyoung Yoon.
And in the Open Section, 7 dan to 4 dan, Yi Li, an undergraduate student at Duke University, handily won the section and became the new North Carolina State Champion. Second place was secured by another outstanding player, Alexander Qi.
Thank you to all participants and especially to Adam and Arlene Bridges who coordinated and provided the lunch fares.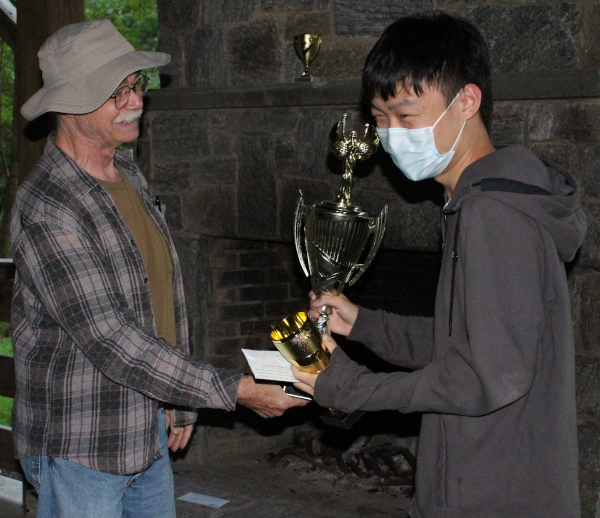 A grid of all players, their records, and results of each round appear below. Photos from the tournament are posted here.
Entrants
Entry Rating
AGA ID
Wins
Losses
Chen An
7D
23123
0
1
Yi Li
6D
25613
6
0
Alexander Qi
6D
23560
5
1
Chen Zhang
6D
25610
4
2
Jake Game
6D
21838
2
4
Qingbo Zhang
5D
22896
4
2
Joel Kenny
4D
24545
2
4
Eric Zhang
4D
13265
2
4
Jeff Kuang
4D
13845
1
3
Nianci Gan
3D
14403
3
3
Sheng Huo
3D
24076
4
2
Suyoung Yoon
3D
23325
3
3
Andrew Zalesak
3D
17540
2
1
Chen Yuan
3D
24599
2
4
Ji Wen
3D
24602
2
4
Frank Salantrie
3D
2014
2
4
Joshua Guarino
2D
12197
2
4
Boris Bernadsky
1D
13734
3
3
Leroy Anderson
1D
22924
3
2
Thomas Bitonti
1D
3540
3
3
Xiaoping Wu
1D
13472
2
3
Peter St.John
1D
1083
2
4
paul celmer
1D
4910
2
4
Stephen Choung
1K
20360
6
0
David Fruchtenicht
2K
2609
3
3
Adam Bridges
2K
9995
3
3
Justin Blank
3K
13891
3
3
Joseph Reed
3K
16696
1
1
Michael Basmajian
3K
25582
0
5
Harrison Pedigo
4K
23829
3
3
Robert Qi
5K
23795
4
2
Bob Bacon
6K
11286
4
1
Tom Roncoli
7K
22607
3
0
Richard Hugh
8K
7346
1
5
Bhaskar Bharath
11K
22914
4
2
Tom Carlson
11K
11288
0
1
Russell Herman
12K
2776
4
2
Tyle Stelzig
12K
24433
1
2
Bryan Pyrtle
12K
25311
3
2
Justin Su
13K
21377
3
0
Don Nonini
14K
15693
1
5
Nicholas Wang
30K
25614
0
3

Round One
White
Black
Winner
Handicap
Komi
Jake Game
Joel Kenny
W
0
7
Alexander Qi
Eric Zhang
W
0
7
Qingbo Zhang
Chen Zhang
B
0
7
Jeff Kuang
Yi Li
B
0
7
Nianci Gan
Andrew Zalesak
B
0
7
Joshua Guarino
Ji Wen
B
0
7
Frank Salantrie
Chen Yuan
B
0
7
Suyoung Yoon
Sheng Huo
B
0
7
paul celmer
Leroy Anderson
B
0
7
Peter St.John
Thomas Bitonti
B
0
7
Xiaoping Wu
Boris Bernadsky
W
0
7
Adam Bridges
Stephen Choung
B
0
7
Michael Basmajian
David Fruchtenicht
B
0
7
Justin Blank
Harrison Pedigo
W
0
7
Robert Qi
Hugh Richard
W
2
0
Bryan Pyrtle
Bhaskar Bharath
B
0
7
Russell Herman
Tyle Stelzig
W
0
7
Don Nonini
Justin Su
B
0
7

Round Two
White
Black
Winner
Handicap
Komi
Chen Zhang
Alexander Qi
B
0
7
Yi Li
Jake Game
W
0
7
Ji Wen
Qingbo Zhang
B
0
7
Joel Kenny
Chen Yuan
W
0
7
Eric Zhang
Andrew Zalesak
W
0
7
Sheng Huo
Frank Salantrie
W
0
7
Nianci Gan
Suyoung Yoon
B
0
7
Thomas Bitonti
Joshua Guarino
B
0
7
Leroy Anderson
Xiaoping Wu
W
0
7
Boris Bernadsky
paul celmer
W
0
7
Stephen Choung
Peter St.John
W
0
7
David Fruchtenicht
Justin Blank
B
0
7
Adam Bridges
Michael Basmajian
W
0
7
Harrison Pedigo
Robert Qi
W
0
7
Bob Bacon
Hugh Richard
W
0
0
Bhaskar Bharath
Russell Herman
W
0
7
Bryan Pyrtle
Don Nonini
W
0
0
Justin Su
Tyle Stelzig
W
0
7

Round Three
White
Black
Winner
Handicap
Komi
Alexander Qi
Yi Li
B
0
7
Jake Game
Qingbo Zhang
B
0
7
Joel Kenny
Eric Zhang
W
0
7
Chen Zhang
Sheng Huo
W
0
7
Suyoung Yoon
Jeff Kuang
B
0
7
Chen Yuan
Nianci Gan
B
0
7
Andrew Zalesak
Ji Wen
W
0
7
Frank Salantrie
Joshua Guarino
B
0
7
Thomas Bitonti
Boris Bernadsky
B
0
7
Xiaoping Wu
Stephen Choung
B
0
7
Peter St.John
paul celmer
W
0
7
David Fruchtenicht
Harrison Pedigo
B
0
0
Justin Blank
Adam Bridges
W
0
7
Robert Qi
Michael Basmajian
W
0
7
Bob Bacon
Bhaskar Bharath
W
3
0
Hugh Richard
Justin Su
B
2
0
Russell Herman
Bryan Pyrtle
W
0
7
Tyle Stelzig
Don Nonini
W
0
0

Round Four
White
Black
Winner
Handicap
Komi
Yi Li
Chen Zhang
W
0
7
Alexander Qi
Joel Kenny
W
0
7
Sheng Huo
Qingbo Zhang
B
0
7
Eric Zhang
Jake Game
W
0
7
Chen Yuan
Jeff Kuang
W
0
7
Joshua Guarino
Suyoung Yoon
B
0
7
Ji Wen
Nianci Gan
B
0
7
Stephen Choung
Frank Salantrie
W
0
7
Boris Bernadsky
Leroy Anderson
B
0
7
Xiaoping Wu
Peter St.John
W
0
7
Justin Blank
Thomas Bitonti
B
0
7
paul celmer
David Fruchtenicht
B
0
7
Harrison Pedigo
Adam Bridges
W
0
7
Robert Qi
Tom Roncoli
B
2
0
Michael Basmajian
Bob Bacon
B
0
7
Bhaskar Bharath
Hugh Richard
W
0
7
Tom Carlson
Russell Herman
B
0
7
Don Nonini
Nicholas Wang
W
4
0

Round Five
White
Black
Winner
Handicap
Komi
Yi Li
Joel Kenny
W
0
7
Qingbo Zhang
Alexander Qi
B
0
7
Chen Zhang
Eric Zhang
W
0
7
Suyoung Yoon
Jake Game
B
0
7
Jeff Kuang
Nianci Gan
B
0
7
Chen Yuan
Sheng Huo
B
0
7
Leroy Anderson
Ji Wen
B
0
7
Stephen Choung
Joshua Guarino
W
0
7
Thomas Bitonti
Frank Salantrie
B
0
7
Peter St.John
Boris Bernadsky
W
0
7
paul celmer
Justin Blank
W
0
7
David Fruchtenicht
Adam Bridges
B
0
7
Joseph Reed
Harrison Pedigo
W
0
7
Bob Bacon
Robert Qi
B
0
7
Michael Basmajian
Tom Roncoli
B
0
0
Hugh Richard
Russell Herman
B
0
7
Bhaskar Bharath
Don Nonini
W
4
0
Bryan Pyrtle
Nicholas Wang
W
6
0

Round Six
White
Black
Winner
Handicap
Komi
Chen An
Yi Li
B
0
7
Jake Game
Alexander Qi
B
0
7
Joel Kenny
Chen Zhang
B
0
7
Sheng Huo
Eric Zhang
W
0
7
Qingbo Zhang
Nianci Gan
W
0
7
Ji Wen
Suyoung Yoon
B
0
7
Chen Yuan
Stephen Choung
B
0
7
Frank Salantrie
Leroy Anderson
W
0
7
Boris Bernadsky
Joshua Guarino
W
0
7
Thomas Bitonti
Xiaoping Wu
W
0
7
David Fruchtenicht
Peter St.John
W
0
7
Harrison Pedigo
paul celmer
B
0
7
Adam Bridges
Joseph Reed
W
0
7
Justin Blank
Robert Qi
B
0
0
Bob Bacon
Russell Herman
W
4
0
Tom Roncoli
Bhaskar Bharath
W
2
0
Hugh Richard
Nicholas Wang
W
9
0
Bryan Pyrtle
Don Nonini
W
0
0