| | |
| --- | --- |
| The Triangle Go Group | Staying Connected for Over 50 Years |
North Carolina Championship Tournament, September 28, 2019.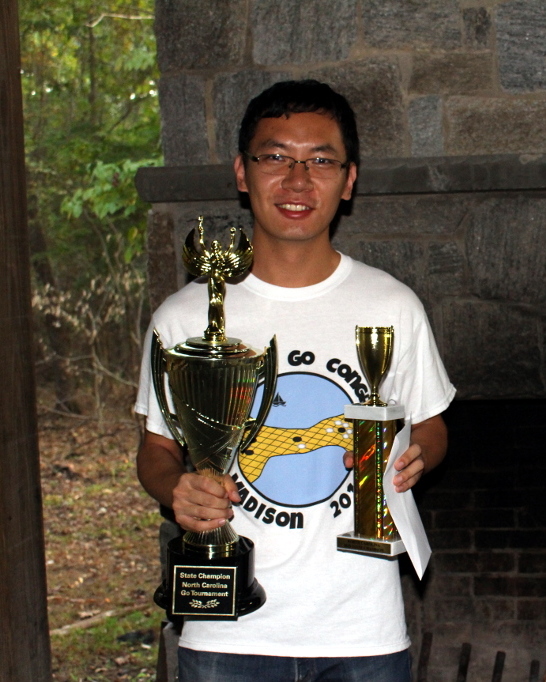 The second North Carolina State Champion Tournament was held at Umstead State Park in Raleigh, NC on September 28, 2019. Twenty five players turned out.
For the second year running, Chen An 7 Dan won the North Carolina State Championship with a perfect 4 win 0 loss record. He faced strong competition this year from another 7 Dan, Chengyu Fu, who placed a very respectable second place in the event. The Open Section was quite competitive this year with two 7 Dans, a strong 5 Dan, two powerful 4 Dans and four battling 3 Dans.
The weather was warm in Raleigh, and the atmosphere was on fire as 25 players engaged in their favorite board game. Tournament Director Jeff Kuang ran the show smoothly and pairings appeared quickly. A sumptuous lunch was again provided by Arlene and Adam Bridges.
Section A ended with a tie between Chen Yuan 2 Dan and Sheng Huo 2 Dan, each with a 3-1 record. Justin Blank was the clear victor in Section B with the only other 4-0 score for the day, with Andrew Thieman and John Aiken tying for second place. The very competitive Section C produced a 3 way tie for first, with Jeremy Washburn, Ganning Xu and Bhaskar Bharath each racking up a 3-1 result. There was yet another tie for top honors in Section D between Justin Su and Russell Herman.
Additional photos are available here.
Results
The following tables reflect the 4 rounds of play. The first table is a record of entries with Win/Loss records. The next 4 tables display the results from each round. This data is based on the TD file submitted to the AGA, cross checked with the wall boards from the tournament. Komi is shown as a whole number. A Komi of 7 represents a komi of 7.5, and a komi of 0 means an actual komi of 0.5. In the Rounds tables, the winner of each pairing is in bold type. In pairings with a handicap of 1 stone, the komi and handicap columns each contain a zero.
Entrants
AGA Rating
AGA ID
Wins
Losses
Chen An
7D
23123
4
0
Chengyu Fu
7D
24098
3
1
Yunying Zhu
5D
22769
0
2
Jeff Kuang
4D
13845
1
2
Suyoung Yoon
3D
23325
2
2
Andrew Zalesak
3D
17540
1
2
Ji Wen
2D
24602
2
2
Frank Salantrie
3D
2014
0
3
Chen Yuan
3D
24599
3
1
Sheng Huo
2D
24076
3
1
Peter St. John
1D
1083
1
2
Paul Celmer
1D
4910
0
4
Tao Ma
1K
23534
2
2
Justin Blank
3K
13891
4
0
Bob Bacon
6K
11286
1
2
Andrew Thieman
7K
23749
2
2
John Aiken
8K
16709
2
2
Jeremy Marshburn
9K
22547
3
1
Paul Landers
9K
21613
0
3
Ganning Xu
11K
20628
3
1
Bhaskar Bharath
12K
22914
3
1
Justin Su
12K
21377
2
2
Russell Herman
12K
2776
2
2
Sky Wang
18K
23870
1
3
Zhe Wang
17K
24414
1
3

Round One
White
Black
Winner
Handicap
Komi
Yunying Zhu
Chengyu Fu
B
0
7
Jeff Kuang
Chen An
B
0
7
Ji Wen
Suyoung Yoon
W
0
7
Andrew Zalesak
Frank Salantrie
W
0
7
Chen Yuan
Sheng Huo
W
0
7
Paul Celmer
John, St.
B
0
7
Tao Ma
Justin Blank
B
0
0
John Aiken
Andrew Thieman
B
0
7
Paul Landers
Jeremy Marshburn
B
0
7
Ganning Xu
Bhaskar Bharath
W
0
7
Justin Su
Russell Herman
B
0
7
Zhe Wang
Sky Wang
B
0
7

Round Two
White
Black
Winner
Handicap
Komi
Chengyu Fu
Chen An
B
0
7
Ji Wen
Yunying Zhu
W
0
7
Suyoung Yoon
Andrew Zalesak
W
0
7
Frank Salantrie
Chen Yuan
B
0
7
Sheng Huo
John, St.
W
0
7
Tao Ma
Paul Celmer
W
0
7
Justin Blank
Andrew Thieman
W
3
0
Bob Bacon
Jeremy Marshburn
W
0
0
Paul Landers
John Aiken
B
0
7
Russell Herman
Ganning Xu
B
0
7
Bhaskar Bharath
Sky Wang
W
3
0
Justin Su
Zhe Wang
W
4
0

Round Three
White
Black
Winner
Handicap
Komi
Chen An
Ji Wen
W
0
7
Andrew Zalesak
Chengyu Fu
B
0
7
Chen Yuan
Jeff Kuang
B
0
7
Frank Salantrie
Suyoung Yoon
B
0
7
Sheng Huo
Paul Celmer
W
0
7
John, St.
Tao Ma
B
0
7
Justin Blank
Bob Bacon
W
3
0
Andrew Thieman
Jeremy Marshburn
B
0
0
John Aiken
Ganning Xu
W
0
0
Bhaskar Bharath
Paul Landers
W
0
7
Russell Herman
Zhe Wang
B
5
0
Justin Su
Sky Wang
W
3
0

Round Four
White
Black
Winner
Handicap
Komi
Suyoung Yoon
Chen An
B
0
7
Chengyu Fu
Jeff Kuang
W
0
7
Sheng Huo
Ji Wen
W
0
7
Tao Ma
Chen Yuan
B
0
7
Paul Celmer
Justin Blank
B
0
7
Andrew Thieman
Bob Bacon
W
0
7
Jeremy Marshburn
John Aiken
W
0
7
Bhaskar Bharath
Zhe Wang
W
6
0
Ganning Xu
Justin Su
W
0
7
Russell Herman
Sky Wang
W
3
0