| | |
| --- | --- |
| The Triangle Go Group | Staying Connected for Over 50 Years |
North Carolina Championship Tournament, September 22, 2018.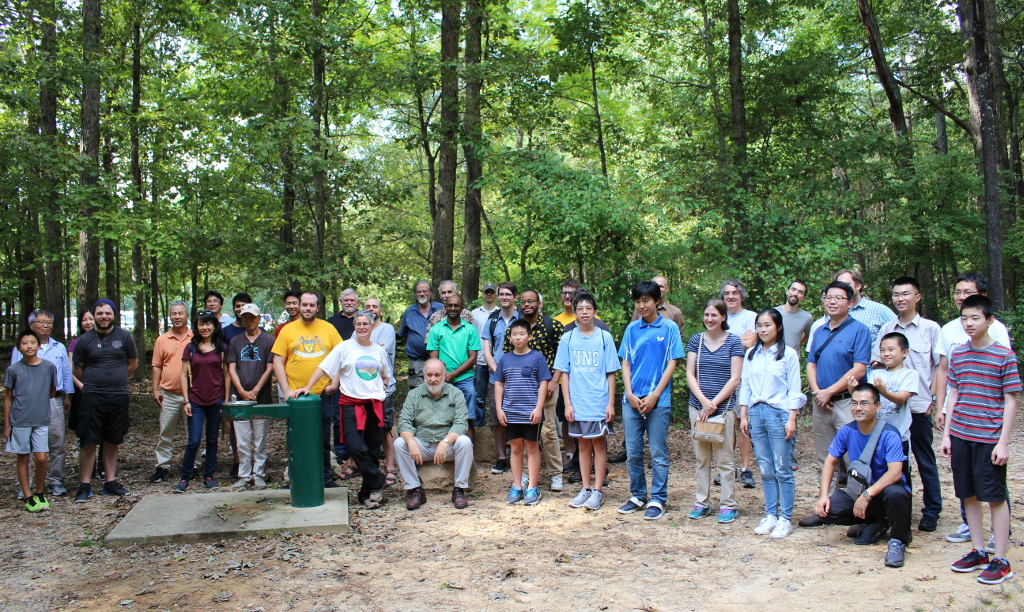 The first North Carolina State Champion Tournament was held at Umstead State Park in Raleigh, NC on September 22, 2018. Forty two players turned out and Ying Shen 2P offered game reviews onsite.
Chen An 7d earned the first North Carolina State Champion with a perfect 4-0 score and Chengyu Fu 7d and Brian Wu 3d share second place in Open section. Tao Ma 2k swept all four games to take first place in Division A (2d-2k) and 8-year old Sheng Hou 1d and Peter St. John 1k took second. Bob Bacon 6k managed to not only serve as one of the tournament organizers but also won first place with a perfect score in Division B (3-6k) while Harrison Pedigo 4k, LeRoy Anderson 5k, and Justin Blank 3k shared second place. First-time tournament player Ki Y. Kim 8k collected the top award in Division C (7-11k) and Tom Roncoli 7k and Andrew Thieman 7k shared second place. Justin Su 15k was first in Division D (12k & up) and Janus Childester was second.
- Jeff Kuang, Tournament Director
Results
The following tables reflect the 4 rounds of play. The first table is a record of entries with Win/Loss records. The next 4 tables display the results from each round. This data is based on the TD file submitted to the AGA, cross checked with the wall boards from the tournament. Komi is shown as a whole number. A Komi of 7 represents a Komi of 7.5, and a komi of 0 means an actual komi of 0.5. In the Rounds tables, the winner of each pairing is in bold type.
Entrants
AGA Rating
AGA ID
Wins
Losses
Chen An
7D
23123
4
0
Chengyu Fu
7D
24098
3
1
Jeff Kuang
4D
13845
1
2
Brian Wu
3D
15452
3
1
Frank Salantrie
3D
2014
2
2
Suyoung Yoon
3D
23325
2
2
Seogil Yoon
3D
24102
2
2
Hongzhou Li
3D
24091
2
2
Andrew Xu
3D
21265
1
3
Haixin Yang
3D
24131
1
3
Sheng Huo
1D
24076
3
1
Nathan Borggren
1D
13212
2
2
Xiaoping Wu
1D
13472
1
0
Jiayi Chen
1D
24112
1
3
Paul Celmer
1D
4910
1
3
Thomas Bitonti
1D
3540
0
1
Peter St.John
1K
1083
3
1
Chun Ho Chung
1K
24115
1
3
Matthew Baker
1K
23335
1
3
Tao Ma
2K
23534
4
0
Justin Blank
3K
13891
2
2
Adam Bridges
3K
9995
0
1
Harrison Pedigo
4K
23829
2
2
Leroy Anderson
5K
22924
2
2
S. Yod Teague
5K
22237
0
4
Bob Bacon
6K
11286
3
0
Andrew Thieman
7K
23749
2
2
Tom Roncoli
7K
22607
2
2
Kerianne Squitire
7K
17795
1
3
Garrett Weeter
7K
23530
1
3
Ki Kim
8k
24123
4
0
John Aiken
8K
16709
2
1
Vincent Dimattia
8K
13019
2
1
Dale Blann
11K
10348
1
2
Bhaskar Bharath
12K
22914
2
2
Russell Herman
12K
2776
1
3
Justin Su
15K
21377
4
0
Don Nonini
15K
15693
0
3
Janus Chidester
16K
24081
3
1
Ajay Dheeraj
18K
23529
2
2
Sky Wang
25K
23870
2
2
Larry Liu
26K
24124
0
3

Round One
White
Black
Winner
Handicap
Komi
Chengyu Fu
Brian Wu
W
0
7
Jeff Kuang
Chen An
B
0
7
Haixin Yang
Andrew Xu
B
0
7
Seogil Yoon
Frank Salantrie
B
0
7
Suyoung Yoon
Hongzhou Li
W
0
7
Paul Celmer
Sheng Huo
B
0
7
Jiayi Chen
Nathan Borggren
B
0
7
Tao Ma
Chun Chung
W
0
7
Peter St.John
Baker, Austin
W
0
7
Justin Blank
Harrison Pedigo
W
0
7
Teague, Yod
Leroy Anderson
B
0
7
Garrett Weeter
Kerianne Squitire
B
0
7
Tom Roncoli
Andrew Thieman
B
0
7
Vincent Dimattia
Dale Blann
W
2
0
Ki Kim
John Aiken
W
0
7
Russell Herman
Bhaskar Bharath
W
0
7
Don Nonini
Justin Su
B
0
7
Janus Chidester
Ajay Dheeraj
W
0
0
Sky Wang
Larry Liu
W
0
7

Round Two
White
Black
Winner
Handicap
Komi
Chen An
Chengyu Fu
W
0
7
Andrew Xu
Jeff Kuang
B
0
7
Frank Salantrie
Suyoung Yoon
W
0
7
Hongzhou Li
Haixin Yang
W
0
7
Brian Wu
Seogil Yoon
W
0
7
Nathan Borggren
Sheng Huo
B
0
7
Chun Chung
Jiayi Chen
B
0
7
Peter St.John
Paul Celmer
W
0
7
Baker, Austin
Tao Ma
B
0
7
Justin Blank
Leroy Anderson
W
0
0
Harrison Pedigo
Teague, Yod
W
0
7
Andrew Thieman
Bob Bacon
B
0
7
Kerianne Squitire
Vincent Dimattia
B
0
7
Ki Kim
Garrett Weeter
W
0
7
John Aiken
Tom Roncoli
W
0
7
Dale Blann
Russell Herman
W
0
7
Bhaskar Bharath
Justin Su
B
0
0
Janus Chidester
Don Nonini
W
0
7
Ajay Dheeraj
Sky Wang
W
0
7

Round Three
White
Black
Winner
Handicap
Komi
Frank Salantrie
Chen An
B
0
7
Chengyu Fu
Hongzhou Li
W
0
7
Haixin Yang
Brian Wu
B
0
7
Suyoung Yoon
Andrew Xu
W
0
7
Sheng Huo
Seogil Yoon
B
0
7
Nathan Borggren
Paul Celmer
W
0
7
Jiayi Chen
Peter St.John
B
0
7
Tao Ma
Justin Blank
W
0
7
Chun Chung
Baker, Austin
W
0
7
Leroy Anderson
Harrison Pedigo
B
0
7
Bob Bacon
Teague, Yod
W
0
7
Kerianne Squitire
Ki Kim
B
0
7
Vincent Dimattia
Andrew Thieman
B
0
7
Garrett Weeter
Tom Roncoli
B
0
7
John Aiken
Russell Herman
W
3
0
Dale Blann
Bhaskar Bharath
B
0
0
Justin Su
Janus Chidester
W
0
7
Don Nonini
Sky Wang
B
3
0
Ajay Dheeraj
Larry Liu
W
2
0

Round Four
White
Black
Winner
Handicap
Komi
Chen An
Suyoung Yoon
W
0
7
Jeff Kuang
Chengyu Fu
B
0
7
Brian Wu
Frank Salantrie
W
0
7
Hongzhou Li
Nathan Borggren
W
0
7
Seogil Yoon
Andrew Xu
W
0
7
Jiayi Chen
Haixin Yang
B
0
7
Sheng Huo
Peter St.John
W
0
7
Thomas Bitonti
Tao Ma
B
0
7
Justin Blank
Xiaoping Wu
B
0
7
Paul Celmer
Chun Chung
W
0
7
Baker, Austin
Harrison Pedigo
W
0
7
Adam Bridges
Bob Bacon
B
0
0
Andrew Thieman
Leroy Anderson
B
0
7
Teague, Yod
Ki Kim
B
0
7
Tom Roncoli
Kerianne Squitire
W
0
7
Garrett Weeter
Russell Herman
W
3
0
Bhaskar Bharath
Ajay Dheeraj
W
4
0
Justin Su
Sky Wang
W
5
0
Janus Chidester
Larry Liu
W
5
0